Should My Lawyer Talk with My Doctor? – Part 2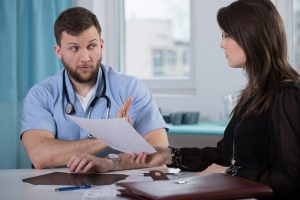 When you've been diagnosed with cancer, you're likely already reeling from the shock of the diagnosis and worried about your prognosis. Then, if you've also been diagnosed with canalicular stenosis that developed because of Taxotere, a chemotherapy drug you were given, that feels like insult added to injury.
To make matters worse, you'll soon discover that the insurance company and other representatives of the company that made Taxotere also have a priority, and that's to protect their financial interest. This means they hope to give you as little as possible to compensate you for your injuries and losses resulting from taking Taxotere.
The experienced attorneys of Hotze Runkle PLLC understand the emotional, physical, and financial burden you are experiencing and we are here to help. Take our online case evaluation quiz to find out if you qualify to join the lawsuit and recover compensation for your injuries and suffering.
A common question we are asked is whether we plan to talk with your physician and why.
Will My Attorney Talk with My Doctor?
It is extremely important for your attorney to keep abreast of your medical status that's related to your injury from Taxotere. For this reason, we may ask for permission to talk with your doctor.
After years of representing patients injured by Taxotere, we've had experience with most of the issues that might arise in your case. It is essential that the extent of your Taxotere-related injuries is not only documented in your medical records but that your personal injury attorney can also communicate them succinctly and accurately to the court.
Talking with your doctor can help us get specific, accurate information directly from the source. The lawsuits rest on accurate information and communication. It is our intention to ensure that your rights are well-represented and that you recover damages for your injuries.
Does That Mean My Attorney Is Directing My Medical Care?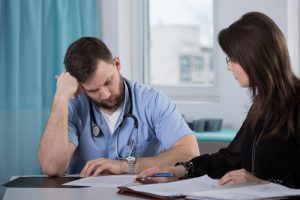 There is nothing wrong with your attorney talking to your doctor. But it's also important to understand that they should not direct your medical care. Lawyers are trained in the intricacies of the law, not medicine. It is never the intention of the attorneys from Hotze Runkle PLLC to tell your doctor, or you, how to treat your condition.
On the other hand, our years of focused experience with individuals who have been injured by Taxotere have given us a list of resources that may be helpful to you. We will not direct your plan of care, but we may suggest you could use a second opinion if we think one is necessary.
What Mistakes Might I Make Communicating with My Doctor?
When working with your healthcare provider, it's essential to fully disclose your health history and habits. This helps guide your treatment. If the opposing attorney finds that you did not disclose a pre-existing medical condition that may have caused your physician to avoid using Taxotere in your treatment, it can negatively impact your case.
Your physician's job is to focus on your medical condition and your treatment, not to direct your personal injury lawsuit. It's wise to talk with your doctor about your symptoms and leave the lawsuit discussions to us.
Be sure you communicate even the smallest symptoms that you're experiencing – for example watery eyes, hair loss, or problems with your nails. These can indicate a larger problem looming in the future that your doctor can diagnose and treat early. Early treatment for side effects may help slow or halt the progression of the symptoms.
For example, 'extreme watery eyes', or epiphora, is a symptom that could indicate canalicular stenosis, a condition that is a known side effect of Taxotere. If the condition is not identified and treated early enough, it is irreversible and there is no cure, although there are a few treatment options and at-home remedies to relieve symptoms.
When you're getting medical care, it's important not to stop treatment without medical advice or fail to keep your doctor's appointments. The opposing counsel will see this as an indication that you are not interested in attaining optimal health. This can negatively impact your lawsuit and any potential recovery for damages you may be owed.
Contact Hotze Runkle PLLC Today for a Free Consultation
If you have been injured after using Taxotere, the Taxotere lawsuit attorneys of Hotze Runkle PLLC have the resources and skills you need to hold the manufacturer accountable for your injuries. Visit our Video FAQ page to find out more about the case and our legal team.
We are actively investigating claims made by patients from all over the country who were not informed of the dangers of using this drug and suffered serious issues as a result. You have the right to informed consent. This means that you should be informed of all the potential risks that are associated with taking a drug or undergoing a specific medical procedure before you take the drug.
Although the treatment is primarily intended to fight cancer, it can also trigger a number of severe side effects that are well-documented across the industry. If you or someone you love has been injured by Taxotere, contact Hotze Runkle PLLC today.
During your initial consultation, we will review the specifics of your case and advise you on your next best steps. Call us at (800) 763-6155 or take the online case evaluation quiz to get started.