What Research Was Done on Taxotere Before Approval?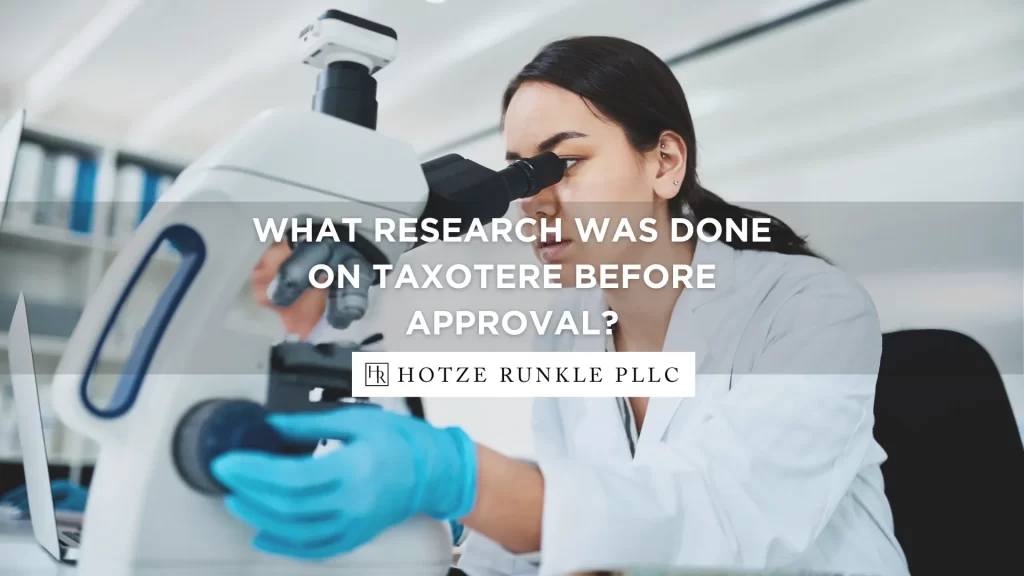 Like other chemotherapy drugs, Taxotere went through development, testing, and trials before the U.S. Food and Drug Administration (FDA) approved it to treat cancer. Taxotere is the brand name of docetaxel, a chemical compound belonging to a class of drugs called taxanes.
An Investigational New Drug Application filed with the FDA must include preclinical research, the manufacturing process, animal testing and toxicity information, the testing results of the chemical compound's stability, and detailed protocols for the proposed testing phases. If approved, manufacturers can start testing the effectiveness of the medication on people instead of depending solely on cell and animal cultures. Aventis Pharmaceuticals, Inc. sponsored the application and clinical trials to develop Taxotere commercially.
Typically, a chemo drug's effectiveness is cancer-specific and often applies to specific varieties or stages of one type of cancer. That means manufacturers must thoroughly test the drug in patients with cancer as identical as possible to the one they aim to treat.
Researchers conducted the first set of clinical trials on Taxotere in the 1990s. The FDA approved docetaxel (Taxotere) in 1999 but only to treat locally advanced or metastatic non-small cell lung cancer (NSCLC).
Clinical Trials for Non-Small Cell Lung Cancer
Aventis Pharmaceuticals, Inc. studied Taxotere's effects on NSCLC before testing it on other forms of cancer. Testing new drugs occur in four phases to confirm safety and reliability in widespread use.
Phase one involves testing on a small group of participants to evaluate the drug's toxicity and limits of safe dosing. Determining major side effects is also an essential element of phase one.
In phase one of Taxotere testing, researchers discovered neutropenia and mucositis were common side effects. Mucositis is an inflammation of mucous membranes lining the mouth and the entire gastrointestinal tract. Neutropenia occurs when there aren't enough neutrophils, a type of white blood cell essential in fighting infections.
After concluding phase one, researchers determined the dosing scheduled for phase two to balance the side effects and reduce toxicity while maximizing the drug's potential effectiveness. The proposed dosing schedule was 100 mg per square meter of the patient's body surface, administered over a one-hour period intravenously every three weeks.
Four phase two tests involved forty patients with advanced non-small cell lung cancer. After completing the study in 1998, a summary and statistical analysis showed the drug had extended life by an average median of 9.2 months. At that point, Taxotere was ready for phase three testing.
During phase three, researchers expanded the types of participants they included to incorporate a variety of ethnicities, ages, and genders. Testing is also randomized, so doctors don't know in advance which patients will receive the drug and which will receive a placebo. The purpose of phase three is to confirm phase two results. After testing 373 patients, researchers found higher survival rates than the previously accepted treatment and decreased the dose to 75 mg.
Once a drug is generally available, phase four testing begins with thousands of volunteers. Researchers conduct survey-like studies as the drug enters testing in larger communities. They evaluate the drug's effectiveness in the long term and look for new side effects they hadn't discovered during previous testing.
Research that was done on Taxotere for additional types of cancer
After successfully testing Taxotere to treat NSCLC and receiving FDA approval in 2002, the manufacturer started testing the drug's effectiveness on other forms of cancer.
Prostate Cancer
Aventis Pharmaceuticals conducted a large-scale randomized clinical trial on Taxotere to test its response to prostate cancer. The clinical trial included 1,006 participants with metastatic androgen-independent prostate cancer. Researchers compared two docetaxel schedules with mitoxantrone and prednisone.
The results showed administering Taxotere and prednisone once every three weeks treated prostate cancer more effectively than other drug schedules. The FDA approved Taxotere combined with prednisone to treat metastatic androgen-independent prostate cancer in 2004.
Breast Cancer
The FDA also approved a Taxotere injection to treat operable node-positive breast cancer. During a randomized clinical trial, 1,491 patients received one of two chemotherapy regimens. Researchers administered the treatment every three weeks for six cycles. The results showed a higher survival rate in participants given regimens with Taxotere.
Gastric Cancer
The FDA approved Taxotere injection concentrate with fluorouracil and cisplatin to treat advanced gastric cancer, including gastroesophageal junction cancer, in patients without previous chemo treatments. The approval came after an international phase three clinical trial involving 445 participants.
Some participants received the standard treatment of fluorouracil and cisplatin, while others received the standard treatment with Taxotere. Researchers found a 23 percent reduction in the risk of death in patients receiving the Taxotere, cisplatin, and fluorouracil combination. Results also showed a longer disease progression period of two months compared to patients who received only the fluorouracil and cisplatin regimen.
Neck and Head Cancer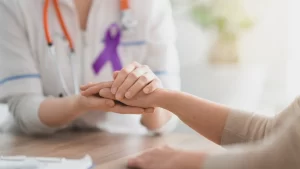 In a phase two study, researchers studied the effects of docetaxel on squamous-cell carcinoma of the head and neck (SCCHN). Of the 358 patients, 177 received cisplatin and fluorouracil plus docetaxel, while 181 only received cisplatin and fluorouracil.
During a thirty-two-and-a-half-month follow-up, the median progression-free survival for participants receiving docetaxel in the treatment regimen was 11 months. The median progression-free survival for participants on a cisplatin and fluorouracil regimen was only 8.2 months. Researchers also discovered a 27 percent reduction in risk of death for treatment including docetaxel.
In 2006, the FDA approved Taxotere injection concentrate with fluorouracil and cisplatin to treat SCCHN.
Learn About Your Legal Options
Taxotere has been linked to adverse side effects despite successful clinical trials, including canalicular stenosis and alopecia. Both conditions are irreversible. You might be entitled to compensation for your medical treatment and other expenses. The Taxotere lawsuit attorneys of Hotze Runkle PLLC can help you fight to hold the negligent Taxotere manufacturer liable for the harm you suffered.
If you developed complications from Taxotere, call Hotze Runkle PLLC at (800) 763-6155 for a free consultation or take our quiz to determine whether you qualify for a lawsuit. We will put our experience and skills to work to recover the money owed to you for the negative effects of treating your cancer with Taxotere.